105 Everyday Tote Bag
11.5″W x 16″H x 5″D
Shown in #50 Astral
A comfortable purse/tote with fabric handles, an outside pocket and clear inside pockets this bag is perfect to take on appointments or the ball game. No one will know you have your needlework with you!
217 Project Bag
10″W x 8″H x 5″D
Shown in #55 Spring Bouquet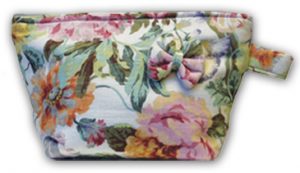 Measuring just 10" x 8" this is the perfect bag for your small projects. The semi rigid bottom allows the bag to stand open, even when empty. A pretty bow is the perfect compliment to the simplicity of this bag.
305 Scrap Happy Ort Box
5″W x 5″ H x 5″D
shown in #63 Cityscape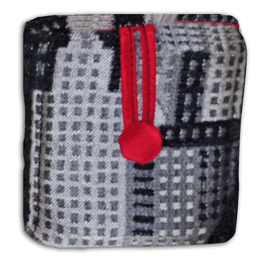 This adorable box sits closed on your table and looks beautiful, but when opened it hangs by the weighted top from your table or chair. Deposit your thread pieces (orts) in the open box which has a pincushion and a magnetic strip on the top to keep needles and scissors handy.
---
308S Travel Size
Needlework System 4 Bag
6.5″W x 27″ L x 6″D
shown in #75 Caravan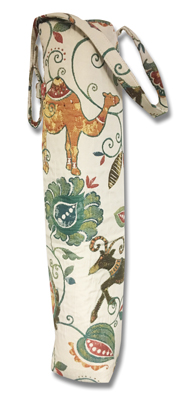 This well padded bag was designed specifically for the Needlework System 4. There's room for the magnifier light, clamps, cords, scissors, and threads too! In the one handle version it hangs parallel to your body; two handles lets the bag hang parallel to the floor. Your choice. (#308L available to fit the Original Size Needlework System 4.)
*Please don't risk having a fire – order a matching magnifier cover which is available in various sizes!*
314 Extendable
Zipper Top Tote
24″W x 17″H (plus 4″ extension) x 5″D
shown in #76 Blossom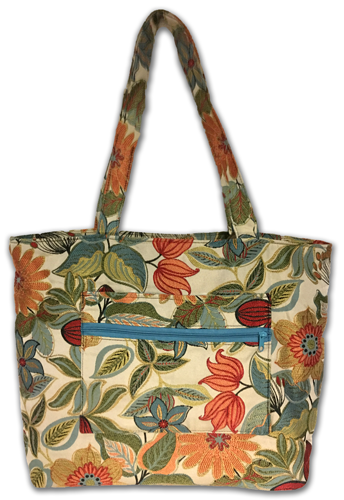 A comfortable tote with fabric handles, double front pocket, hard bottom and zippered top. The top zips in place to make a large bag but will extend 4" and zip to make a larger bag! Inside the bag clear pockets totally circle the base of the bag giving you a pocket for everything! When empty this wonderful bag folds completely flat for storage. When empty this large bag will fold completely flat for storage making it the perfect bag to take on a vacation – take it empty and bring it back filled with your latest finds.
323 Zippered Utility Case
15″W x 15″H x 4″D
shown in #65 Venetian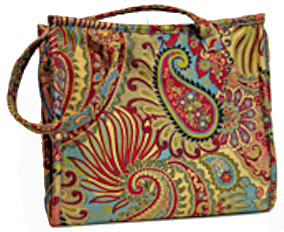 This thoughtfully designed case comes with 3 inside pages divided into see through zippered sections. There's room inside to carry small frames too. A total of more than 20 pockets make this the go to bag for all your needle art projects. The inside pages come with various configurations, no division, divided in half or divided into four sections, just tell us what you want! If you don't want to carry a large case just pop out a page with the threads you need and off you go. Although you can only carry 3 pages at a time additional pages can be ordered for a small charge.
---
506 Ditty Bag
8″W x 5.25″H
shown in #78 Houndstooth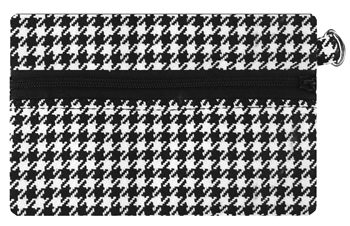 This great bag has 2 zippered compartments for carrying threads, scissors, glasses or thread paddles. It has almost unlimited uses for everyday life too! Many customers carry their cell phones, or wallets in these versatile bags. A ring on the end tab can be used to secure your keys.
507 Scroll Frame Bag
17″ H x 31″ W x 4.5″ D
Custom sizes available
Shown in #82 Retro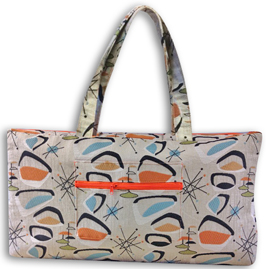 Tired of carrying your scroll frame in a pillowcase? This tote is for you. The huge dimensions of this bag protect your precious large project. An outside pocket is handy for small items and the zippered inside pocket will hold and protect your threads. Don't forget, we can make this bag in almost any size you desire!
508 Envelope Case
13″W x 10.5″H
shown in #05 Rococo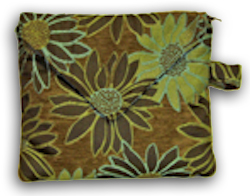 A customer favorite, this bag is designed to look like a large envelope with a tab at the end tab making it comfortable to carry. Under the flap a zipper keeps all your projects in place. Perfect for small projects, on or off the frame. Clear pockets protect your threads.
---
509 Needlepoint Tool Box
12″W x 4″D x 2″H
shown in #70 Purple Haze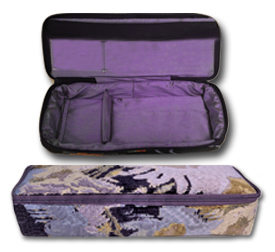 With a hard bottom and a hard top it's the perfect place to store all your tools. The top opens to reveal 2 clear zippered dividers. The bottom of the box is divided into 2 sections to keep your tools separate. Perfect to protect your laying tools, scissors glasses or anything else you have with you. Perfect to drop into a larger bag for classes, or leave on your table at home.
511 Z-Bar Light Case
18″W x 2″H x 4″ D
shown in #84 Poppies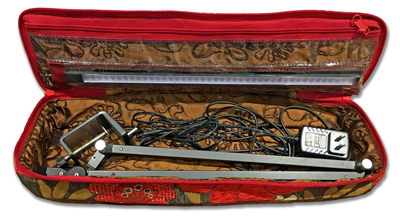 You no longer have to be concerned about carrying your Z-Bar Light with you, this case will protect and carry it in style! There's plenty of room in the bottom of the case for the bars, cords and table clamp. Slide the light bar into special slot located in the hardened top of the case to protect your light. Included with the case is a pouch to store your table clamp.
This beautifully designed case will fit in its own pocket inside the #612 JULIA bag.
601S Small Size Carry All
15″W x 10″H x 4″ D
shown in #83 Perfect Plumage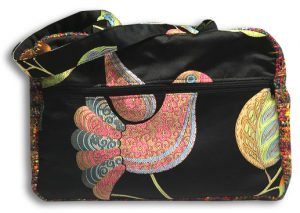 A wonderfully versatile bag with a zippered outside pocket and loads of pockets inside. Four feet on the hard bottom protect this gorgeous bag from the floor. Perfect for almost any project but small enough to carry on a daily basis! Works as a beautiful carry on for your next trip!
---
601M Medium Size Carry All
18.5″W x 12″H x 5.5″W
shown in #81 Fractured Flowers
Padded handles, zippered front pocket and end pockets for water bottles make this a great all purpose Medium Carry All. The hard bottom of this bag has feet on it so you never have to worry about putting it on the floor! Inside you'll find clear pockets to make organizing your needlework, and your life, easier.

601L Large Carry All
20″W x 13.5″H x 6″D
shown in #80 Spa Houndstooth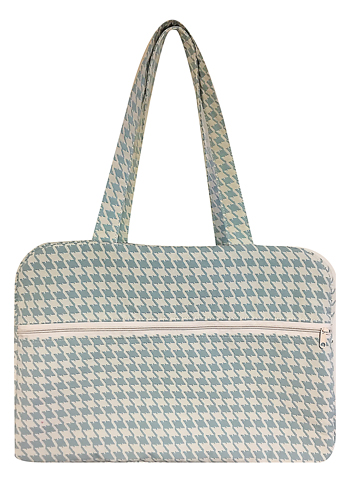 A larger version of the 601M, this bag has the same great pockets inside and out. This bag is a beautiful carry bag for carrying needlework on your next flight. We can also add a Trolley Strap to the back of this bag which will slip right over the handles of your rolling suitcase. Six feet on the hard bottom keep your bag off the floor.

605 Cross Stitch /
Needlepointer's Case
11.5″W x 11.5″H (closed)
shown in #67 Prytania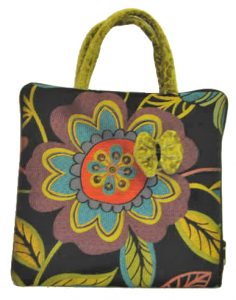 This thoughtfully designed case lays flat when opened. Inside you find 3 clear compartments on one side with a needle pillow. The opposite side features a large clear compartment designed to protect a large open cross stitch chart or your fibers. Finally, beside the large pocket is open slots for glasses, pencils or laying tools.
---

606 Snap Together Tray
9.5'W x 4.5″H
shown in #77 Monet


Unsnapped, this tray fits perfectly inside the #605 Cross Stitch/Needlepoint Case. Then snap the tray together when you reach your destination. Keeps all your tools and threads from rolling all over the table! This is the perfect item to control your threads, scissors and needles when you take a class!
610 The TONY


20'W x 20″ H x 4.5″ D
shown in #79 Kaleidoscope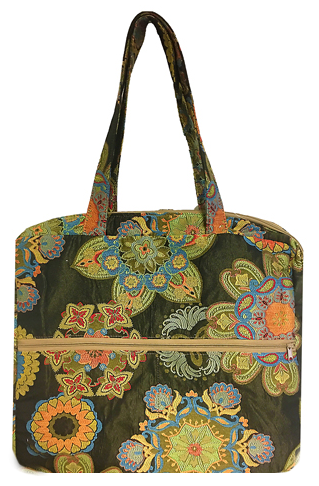 611 The Antoinette
20'W x 16″ H x 4.5″ D
shown in #79 Kaleidoscope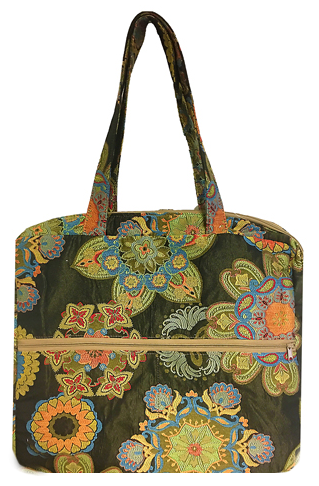 ---
Designed with input from the incomparable Tony Minieri, this bag is a needlepointer's dream!
OUTSIDE: The front has 1 slot pocket that is divided vertically and is about 10″ deep. The back has a zippered pocket all the way across. Both ends have pockets to hold water bottles.
INSIDE: The front has 2 clear pockets which are about equal in size. The back has a vinyl pocket about 6″ deep with a zipper top which is divided into 2 sections, one larger than the other. The purpose of this shallow pocket is designed to hold your tools, below the shallow pocket is another one measuring 9″ deep and finished with a ribbon top – no zipper. This bag has everything!
---
---
---
612 The JULIA
19.5″ W x 16″ H x 8″ D
shown in #84 Poppies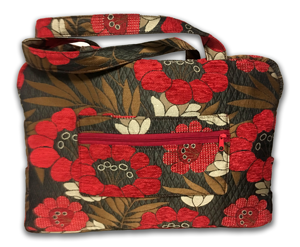 The irrepressible Julia Snyder requested a bag to meet her every needlepoint need and so the JULIA was designed. With a semi rigid bottom and 6 feet your bag is stable and beautiful.
OUTSIDE: A patch pocket, open in the back with a zippered front is the go to spot for keys and a little cash. Both ends of this marvelous bag has pockets to keep water bottles or anything else you need handy access to. The back outside has a slot pocket opening that is the entire width of the bag and is held closed by a tab of velcro.
INSIDE: The back of the bag has a zippered vinyl pocket on the top and below that is an open vinyl pocket which can hold your #511 Z-Bar Light Case snuggly in place. The front inside is equally divided into 3 open pockets which perfectly fit Julia's many instruction books! Each end of the bag has an open vinyl pocket that will hold tools or even your clip on magnifier. There's lots of room for any canvases or frames you want to carry with you. The Julia is sure to become a customer favorite!